Spiritual reflections, family, home educating typical and special needs children ~ Dedicated to: Our Lady of Guadalupe, Patroness of the Unborn. "Rejoice in hope, persevere in tribulations, be constant in prayer." Romans 12:12 Certe bonum certanem! Fight the good fight!
Wednesday, February 24, 2016
Saturday, February 06, 2016
This year is the year of wellness and comfort for me. I have designated it so :) Because of my serious autoimmune disorder affecting my liver that became acute in September, I've had 5 months of steroids and immuno-suppressant drugs in me, and I'm not sure when it's ending. I visit my doctor soon and we will discuss the long term plan. Because the inflammation from the disorder is so widespread throughout my body, not just my liver, but my abdomen, my joints, my mouth/gums, my eyes....I have had an array of discomfort and symptoms. It is calming down though, and the largest amount of inflammation was relieved within two to three weeks of the medications. With it, went a lot of weight.....I lost two clothes sizes. My vision has changed...I mean my eyes....I had to go back to my older less strong prescription glasses. Occasionally, on a bad day for whatever reason some inflammation slips back in, I have to resort to my newer prescription. Interesting, isn't it? I'm taking in one day at a time.


I have been a little more protective of myself...a little more of putting myself first in some things. I've had the guts to say "no" more often. I really have to because stress and over activity really doesn't help this kind of disease into remission.
My diet has changed, my body has changed, my outlook has changed. I am all about comfort, lessening stress and moving forward with a healthy mind, body and soul.
My daily routine has changed -- the hours I am up are quite early now, and I'm taking advantage of being productive while the family sleeps. I have seen more amazing sunrises this way! As much as I'd like to sleep into the morning more.....I am appreciating the blessing of God's glory around me and this experience is not wasted.


So, I have a few items that keep me fueled for this journey -- my awesome new journal I spoke of in a previous post, some lovely Philosophy Fresh Cream fragrance which rocks my day with joy, and some of the following that are with me (on me) during my days as I press through the daily grind here.
My NPR Women's Retro 70s Logo t-shirt, who knew it will feel so right and be such a great color that cheers my day on:
My Spenco Leather Orthotic Siesta Slide slip-on shoes:
I have pretty much been able to wear this non-stop as we haven't had much of a winter here; I haven't had to haul out the serious winter boots at all.
My skin has taken a beating with the drugs; my facial skin was dry anyway, and now highly sensitive due to the medication, so I have been using an Estee Lauder product (never dreamed I'd be using or spending money on :), but you know what? It seriously works. It's is very soothing and hydrating and it smells delightful, and it's doing a better job than any of my former products, so I'm keeping with it: Nutritious Vitality 8 Radiant Moisture Creme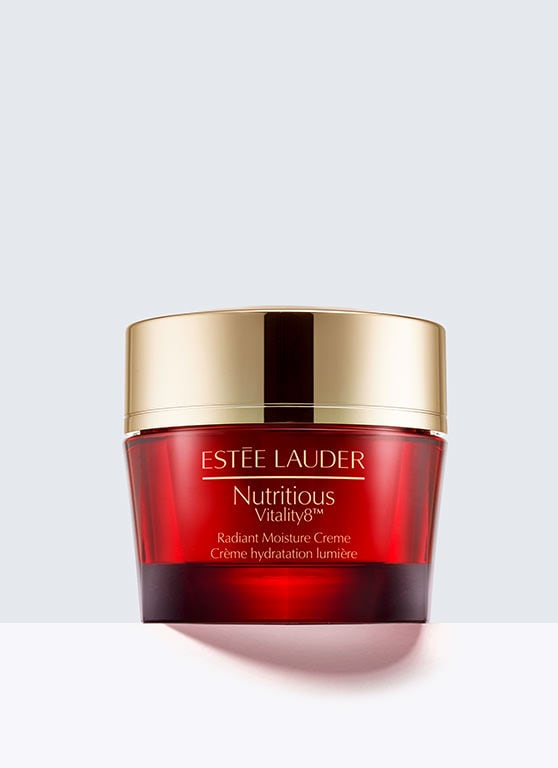 I have swapped out my coffee addiction and basically become British!..or maybe that's Irish :) So I have learned to love English Breakfast Tea. I have tried a few kinds, trying to get a hang of this "black tea" thing ....and I've settled on a good one:
Because I'm lactose intolerant, I've been putting a splash of this in my breakfast tea, International Delight Sweet Cream, just a little something special I indulge in:
There are several more favorite frills that make my days complete but I will save them for another post.
Thanks for reading! May you be blessed with favorites and wellness throughout this new year!