Tempting products I love to smell and live with are popping up all over as the Christmas season is quickly approaching.  Some of the descriptions are so delicious and emotion-evoking.  I find this one particularly interesting (it's a beautiful product if you're looking for a special gift).
Snow Angel Shower Gel (Philosophy)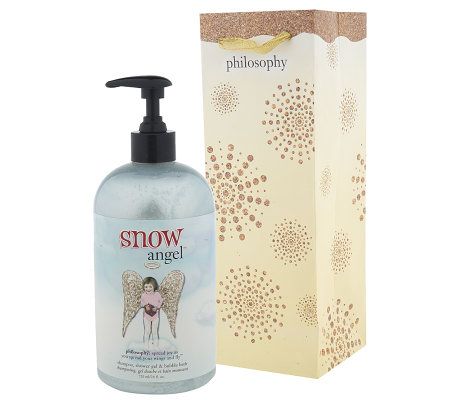 The product description reads:
What is it: The snow angel shampoo, shower gel, and bubble bath is infused with a fresh snow scent that's created to bring you a sense of childhood joy during your shower or bath.
.<snip>
Why is it different: Feel like an angel amidst the snow as you lather from head to toe with snow angel shampoo, shower gel, and bubble bath. This luxurious, moisturizing formula gently cleanses and conditions skin and hair. The pearlized blue hue and fresh, clean scent capture the essence of a fresh snowfall and evoke the childhood joy in us all. <snip>
That….."essence of a fresh snowfall and evoke the childhood joy in us all…"  I thought was interesting.  So I was briefly reflecting on childhood joy….I never grew up in the first decade of my life with "seasons"…having been born and raised in southern California in the 60s.  It wasn't until we moved to SLC Utah in the 70s that I experienced first hand the first snow in my life.  And wow, what a snow!…A LOT of snow, as you can imagine – so true of that geographical location.  I remember loving the quaking Aspens and pines and the fresh mountain air so much, but being torn between the beautiful state of things where I lived, and yearning to be with my family who had relocated to my mom's home state of Ohio in the late 80s.  And so it is I left that beauty behind and am now raising a family in Ohio (which by the way, has it's copious amounts of snow). 
While these beautiful products from Philosophy (a company I love to love), have wonderful rich descriptions of their products, and the scents do live up to their names, I recall being happy taking a bath with Fuzzy Wuzzy soap in the 60s :)  Anyone remember that?
So, while I sit in bed blogging, nursing a fall cold and playing Angry Birds….I am also internet shopping for Christmas, looking ahead at my leisure from the comfort of my home.  One item I know for sure my children will remember, (besides SNOW!)… like I remember Fuzzy Wuzzy soap from my childhood …will be this comforting shower gel they use again and again….Gingerbread Man also from Philosophy.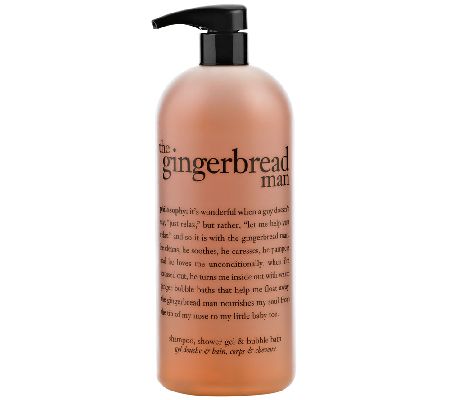 This is the Super size, but it also can be purchased in some smaller cuter decanters!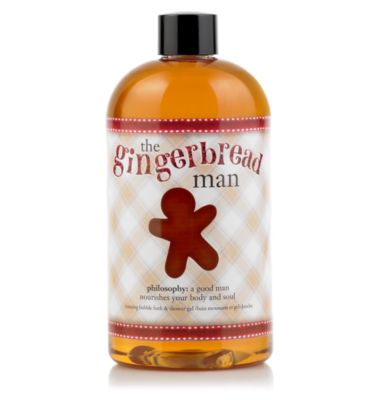 Between Snow Angels and Gingerbread Men (and girls), and Sugar-Plums…and the snow I know will come…I'm already looking forward to creating warm and comforting memories with and for my family.