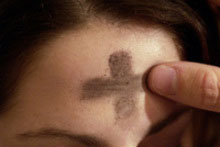 We offer You our failures,
we offer You attempts;
The gifts not fully given,
the dreams not fully dreamt.
Give our stumblings direction,
give our visions wider view,
An offering of ashes,
An offering to You....
~ Tom Conry
+ + + +                
Another Ash Wednesday in our lifetime; old and young alike.  This marks the first Ash Wednesday that my young son actually asked about, wanted to be at, knew something was special about it, anticipated it.  In the past, he had no clue, nor did he want anything put on his forehead.  This year was different.  A new awakening, a new beginning. A new creation. And so peaceful with just my three sons in tow with me to our parish this evening.  What a beautiful mass and beautiful beginning of Lent.
May God bless you abundantly this Lent.