The first day of summer!  Wow, it's finally here and with it I am feeling new hope in my homeschooling endeavors for the new school season ahead.
Isn't it just like a homeschooler to be on vacation, but thinking of the next schooling year at all times?!  lol!  Well, I guess I'm not that different…..
As we are making preparations for our daughter to be shuffled off to college this fall, (her dorm bedding just came!) I too am doing my homework this summer, getting ready for the ride of my life …..I can not imagine the challenges that await me while I home educate for the next eleven years, these two youngest sons both with their own different disorders.
Mark, with high functioning autism is truly a joy, and we would worry terribly about bullying with him in a school system;  of course he needs specialized attention in social areas that some argue only professional specialists in institutionalized settings can provide such help.  Well, we are convinced to continue to homeschool and we are going through private means for language therapy and possibly some skills groups, that our insurance will cover.  Recently, I am so pleased to have found and have in my possession a book that gives me far more credibility as a homeschooling parent of a special needs child especially in the social interaction area  – the argument being that a home school environment may by far be a better option as the social interaction/skills can be controlled, can be more frequent and varied (daily excursions), and the parent-teacher can be readily available to help the child learn and cooperate and practice the correct social responses and behavior with more positive impact. 
Homeschooling the Child with Autism, by Patricia Schetter * Kandis Lighthall * Foreward by Jeanette McAfee,M.D.
I'm really excited about this book because it gives testimony from other parents who have gone before me on this journey with homeschooling their autism spectrum disorder child.  It gives me practical information and it gives me hope.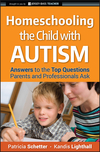 When I look at each of my children I attempt to pray first about their potential and give to them all the things we can in our home school environment that will help them grow with that potential – each uniquely created.  For both my younger boys, I see great things in store, and several hurdles we must train to launch ourselves over….but all things are possible with God.  As I prepare for this new part of the journey, I prepare myself spiritually to be ready for the challenge and strong enough to withstand some of the blows that will incur.  I'm not sure why God has brought us to this spot in our lives, after 23 years of marriage and fourteen years of homeschooling….but I do know he brought us "seasoned", we are not young at this, neither our marriage or the years we've raised and taught our children.  So, while I ponder and pray over this I will attempt to trust God even more knowing that He has called us to this place and His grace will suffice.